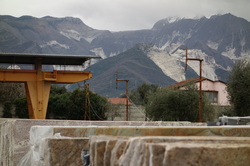 Throughout our 40 plus years in business we have been blessed to travel the world and stay connected with our family in Italy. Tony Pascucci was born and raised in Fano, Italy right on the Adriatic Sea.
Fano's first mention in history dates from 49 BC, when Julius Caesar held it. What a great city with beautiful architecture and warm embracing people. When visiting Italy, purchasing material, we
always make time to visit family and friends in Fano. What a great time it is to sit with family for a meal and eat Leo and Gianna's homemade prosciutto, share stories, a bottle of wine and some laughs.



---