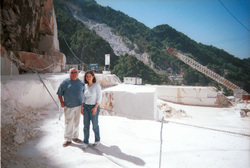 Tony Pascucci learned his stone working skills at an early age. As a young boy in Italy, he developed an appreciation for fine stone and a talent for finishing each to perfection.

In 1959, he brought his old-world craftsmanship to the United States and together with his wife, Mary Kay, began the business that is still going strong today. With his artistic skills and her keen business sense, their dynamic drive ensured long-term success for their new company

Continuing the heritage of excellence and dependable service today, Tony was joined by daughter Joanna Pascucci-Stotler and son-in-law Curt Stotler. A life-long apprentice in the stone industry, Joanna grew up learning the business from quarry dust to finished product. A Master's degree in Business completed the educational process she needed to keep this company on track for the 21st Century. Curt applies his prior business experience to the daily running of the company and is involved in every facet of operations. As a civil engineering student, he worked as cad cam designer with a land development surveyor before gearing his studies to the practical business applications he uses now. Joanna and Curt work together to preserve the integrity and commitment to excellence this company was founded on. Just like Tony and Mary Kay before them, that feeling of family pride can be felt the moment you step inside our door.

Joanna, Curt and their knowledgeable staff invite you to join the family!


---